2015 Osage Super Warrior F450 4×4, Liquid Spring, Warranty and Low Mile
Click main photo to zoom out full screen.
Ready 6-5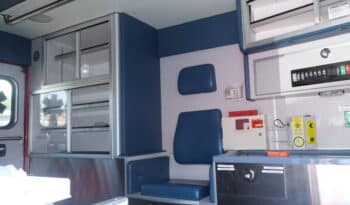 Top of the line Osage Type I ambulance.
Only 86k miles on the odometer. It had an unusual engine failure for the 6.7L diesel which has been a very good engine. We are putting in a new reman engine which will have a 100k mile warranty. Our mechanic is also checking over the rest of the drivetrain and will complete any needed repairs.
Our ambulance technicians are also checking all the ambulance systems and will complete any needed repairs.
We expect the truck to be ready to go into service at it's new home by 6-5-23.
More photos in 2-3 weeks.
We can provide new Stryker products for additional cost. We have a new Stryker Power XT stretcher in stock as well as Performance Loads in stock. We can also do graphics. Delivery available.
[momentopress url=INSERT URL HERE]